Scotland's History
Accommodation
Archaeology
Articles and reviews
Arts
Art for sale
Scottish Books
Calendars
Castles and Historic Houses
Famous Scots
Family/Genealogy
Gaelic/Language
Golf
Home Page
Humour
Museums & Attractions
News and Breaking Stories
Picture Gallery
Places to visit
Poster Store
Privacy Statement
Quizzes and puzzles (Fun Only)
Recipes
Small Ads
Site Map
Whisky
Links

Picture Gallery
Low Parks Museum, home to the Cameronians (Scottish Rifles)



This is a picture from the Cameronians museum of a pastiche showing the Scottish Rifles regiment through the ages. The photograph could almost be taken as a recruiting poster (which it isn't) of the regiment showing it in all its "glory"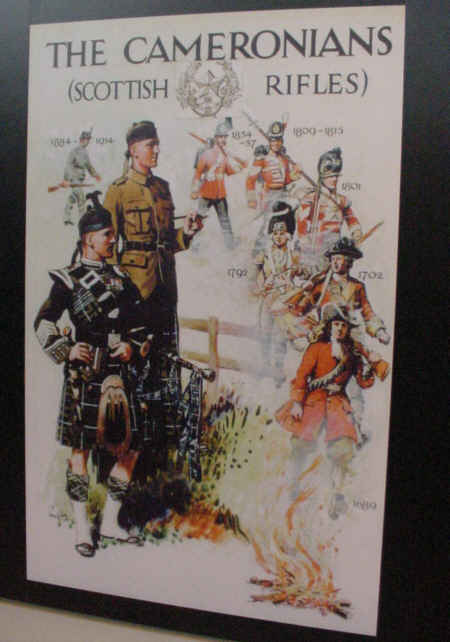 The Low Parks Museum is a local community museum, albeit it on a grander scale than some. Its displays include tributes to local industry such as mining (coal) and agriculture. It also plays host to the regimental museum of the Cameronians, the Scottish Rifles and it is reviewed in an article.. A visit to the museum couLd easily be combined with a visit to Chatelherault or New Lanark.



Articles Page
Next Page
Start of Gallery