CHATELHERAULT HOUSE Picture
This is a picture of the former hunting lodge of the Duke of Hamilton which is called Chatelherault (pronounced ( Shat—ler—oh) ) House. Situated near Hamilton in Lanarkshire, it is a striking building considering it original intended use.

This striking facade is just that though. Chatelherault gives an impression of grandeur which is in reality simply a large wall with two buildings, one at each side. The property is only one room thick but the whole is lavishly decorated with scalloped walls, ball finials and ornate urns. Behind the property lies a formal garden or par-terre and courtyard(pictured on following pages). For a more detiale dhistory see the link below.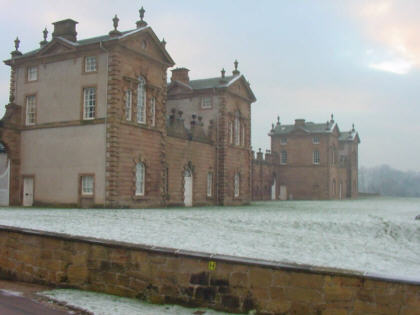 for an excellent history of the area