Lanarkshire
is a region of Scotland, which although lying closely to major cities such as Glasgow and Edinburgh is often overlooked by the visitor. This could be for a variety of reasons, one of which is certainly the fact that the area is dissected by the main motorway south, taking visitors away from the area. One particular part of the county that is worth visiting though is the
Clyde Valley
or Garden Valley, as it appears to be more frequently being called. At the Eastern end of the valley is the ancient (Royal) Burgh and town of Lanark and at the Western end is the town of Hamilton.
Hamilton is a modern, bustling town, but it also plays host to some interesting historical buildings of which Chatelherault is one.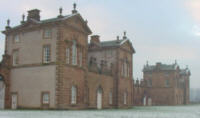 Chatelherault was built as a hunting lodge, dog kennel and summer palace for the
Duke and Duchess of Hamilton
and is situated in Ferniegair some two miles from Hamilton. This description may have raised questions as to why this should be of interest but its design was intentionally eye-catching. It was also intended to complete the "great design" with an avenue of trees linking it to the Duke's palace in Hamilton, which was unfortunately a casualty of coal mining operations in the 1920's. The only visible reminders of this palace are the Grand Avenue, Mausoleum (which has an incredible 11 second echo) Chatelherault and the former stables, which now houses the Low Parks museum.
The entire design of the lodge is a strange one. Viewed from a distance the scalloped walls, ball finials and ornate urns, set against the distinctive silhouette of a pinkish sandstone, gives the impression of a magnificent large lodge. Yet it is merely an inspired piece of architecture as the lodge itself is only one room deep with the habitable rooms residing at either end.


Unfortunately the lodge suffered before being taken over by Scottish Office in 1977. The former banqueting room was damaged by fire and was almost "gutted" in the 1960's. Since that fire, the building lay neglected and was a further victim of repeated vandalism and arson. However, the building was acquired by the Scottish Office due to the inability of the Hamilton family to pay death duties incurred by the death of the 14th Duke. This unfortunate event turned out to be the saving of the lodge and a ten year restoration programme followed.

First the building was renovated and in places restored to its original glory, then archaeological investigations started to establish original garden features. This uncovered sufficient evidence to restore a magnificent Georgian parterre garden and found evidence of the type of herbs and medicinal plants, which were grown.

The lodge of course stands in a large countryside area (wouldn't be much use as a hunting lodge otherwise!) and most (550 acres) of this still remains. This countryside area allows around 10 miles of countryside walks and on a good day is an excellent place to take a break.

The Lodge is certainly worth visiting for at least a morning and can be combined with some shopping in the town, a visit to the museum and mausoleum.