New Lanark is a visitor attraction at the eastern end of the Garden Valley (as the Clyde Valley is increasingly becoming known as) and is just outside the market town of Lanark itself.

New Lanark is a world heritage village, which was built over 200 years ago when David Dale (a well-known industrialist) decided to site a series of mills close to the fast flowing River Clyde.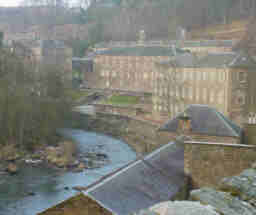 The village that built up around the mills rose to prominence due in no small part to the enlightened management of Robert Owen. Robert Owen from his management style appeared to care deeply for the workforce and set about building schools, good quality housing and the world's first co-operative food store.
This far sighted management has continued today with the New Lanark site being transformed into a beautifully restored living, working community which plays host to the award winning exhibitions. The exhibitions include restored Mill Workers cottages, the village store, Robert Owens house, working textile machinery and a visitor ride called the Annie McLeod experience. This ride tells the life story of Annie through a series of models, "talking heads" and exhibits.

Once you have finished looking around the Heritage Village you must really take a look at the nearby Falls of Clyde. This is a designated wildlife reserve under the management of the Scottish Wildlife Trust. The main "exhibit" is views of the Corra Linn where the River cascades eighty-five feet into a pool which some of the more foolhardy locals have been known to high dive into (note this is NOT recommended). It is a slightly strange attraction in that to see it in all it's glory, it really needs to have been raining heavily but then again sitting near it with a picnic is perhaps the best way to view it which clearly can't be done in heavy rain.

If you are so taken by the area that you wish to stay you can also take advantage of the newly opened hotel, self catering lodges or if your budget doesn't quite stretch that far, the long established youth hostel run by the Youth Hostelling Association.

New Lanark is an experience in which you could easily spend a morning stretching into an afternoon, joining some of the 400,000 visitors who experienced the attraction last year. It is suitable for most ages and interests but be warned, the walk down from the official car parks is very hilly. Cars are allowed access into the heart of the village to drop off or pick up passengers, but no parking is available.

Further information on the village is available from the local Tourist Board or direct from the attraction itself.