Where to Go
Low Parks Museum, home of the Cameronians (Scottish Rifles)

The low parks museum is to all intents and purposes a local museum, albeit on a grander scale than most. The museum is located in the former stables of the Duke of Hamilton and near the site of the former Hamilton Palace, which collapsed after its foundations were ruined by coal mining. The museum celebrates much of local life and the impact that some of that had on the Nation as a whole.
A good example of this was the recent temporary exhibition on local football (soccer) which clearly showed the number of local players who have made it onto the world stage.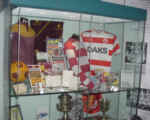 This is a picture of some dated football strips of the two local teams Motherwell (left) and Hamilton Academical (right)
The other permanent aspect to the museum includes displays regarding the local industries of agriculture and coal mining. Although these are long gone (just like the palace that coal mining ruined) they play an important part in the heritage of the area. The museum also pays host to another two permanent exhibitions commemorating a more difficult time in the areas history, the covenanters exhibition and the regimental museum of the Cameronians (the Scottish Rifles)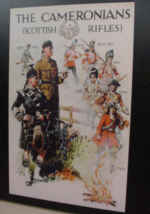 The Cameronians took their name from Richard Cameron, a covenanting minister and was raised on 14 May 1689. A single regiment continued throughout the 18th Century seeing a mixture of war and peacetime action. Later in that century, saw the first of the army restructures which ultimately lead to its death when they were merged with the 90th (Perthshire Volunteers) and it became the Cameronians (Scottish Rifles). They were unique as a Scottish regiment, in so far as they were the only rifle regiment in Scotland, until their disbandment in 1968. There is a collection of exhibitions and displays commemorating these brave soldiers, some of who were awarded the top military honours such as the Victoria Cross.

Free to visit (at the time of writing), the museum holds enough interest to keep you busy for an hour or so. As local museums go this one should be high on your list to visit

Low Parks Museum
129 Muir Street
Hamilton
ML3 6BJ
01698 328232