Scotland's History
Accommodation
Archaeology
Articles and reviews
Arts
Art for sale
Scottish Books
Calendars
Castles and Historic Houses
Famous Scots
Family/Genealogy
Gaelic/Language
Golf
Home Page
Humour
Museums & Attractions
News and Breaking Stories
Picture Gallery
Places to visit
Poster Store
Privacy Statement
Quizzes and puzzles (Fun Only)
Recipes
Small Ads
Site Map
Whisky
Links
PICTURE GALLERY
Craignethan Castle Picture Photograph

Craignethan Castle is now, to all intents and purposes, a ruin. However, its very setting (in a very picturesque high point overlooking the River Nethan) makes it worth a visit.

Reputed to be haunted (aren't all of Scotlands castles ??) it was also said to have played host to Mary Queen of Scots before the battle of Langside.


The oldest part is a tower house built by Sir James Hamilton of Finnart in the 16th century, defended by an outer wall pierced by gun ports, and by a wide and deep ditch with a most unusual "caponier" - a stone vaulted chamber for artillery.

Presently this property is managed by Historic Scotland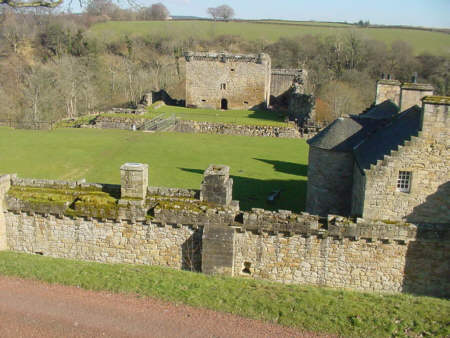 Looking East across the outer courtyard towards the tower house. Towards the front of the picture is the house of the Covenanter, Andrew Hay, which was built after he purchased Craignethan in 1659.


Next Picture
Start of Gallery