Scotland's History
Accommodation
Archaeology
Articles and reviews
Arts
Art for sale
Scottish Books
Calendars
Castles and Historic Houses
Famous Scots
Family/Genealogy
Gaelic/Language
Golf
Home Page
Humour
Museums & Attractions
News and Breaking Stories
Picture Gallery
Places to visit
Poster Store
Privacy Statement
Quizzes and puzzles (Fun Only)
Recipes
Small Ads
Site Map
Whisky
Links
PICTURE GALLERY
Scotlands Secret Nuclear Bunker Photographs
The pictures and photographs below and on the following pages will give a flavour of what is on display.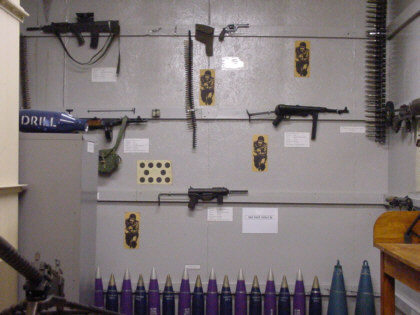 This is a photograph or picture of some of the small arms in the armoury which would have been used to defend the nuclear bunker. Although to be honest, I think small arms would be of little use considering that the bunker would only have been used after a nuclear bomb had detonated.




Scotland's secret bunker is at Anstruther, Fife, near St. Andrews. The site first started life as an RAF radar station in early World War Two, over the years it was equipped with different types of radar units, all of which have long since gone from the site. Its most recent use was as an emergency nuclear bunker in times of nuclear attack. The attraction is reviewed in an article here.

Official Site
Review of Attraction
Start of Gallery
Next Page/ Picture