Wanlockhead - Scottish Museum of Lead Mining
Review of attraction 2001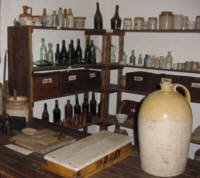 Wanlockhead is Scotland's highest village standing 1541 feet above sea level in the dramatic countryside of the Lowther Hills. In this small village stands the museum of Lead Mining which pays tribute to the harsh and spartan life of the miners from the 18th to the 20th century. This is where you have the opportunity to "explore the past"
The lead mining museum is run by the Wanlockhead Museum Trust and comprises five main areas of activity. The visitor centre is where you will start the tour of activities and it is here that you will be able to view a collection of rare minerals, mining artefacts and working models of mining machinery. Within this building of course is the usual gift shop and the tearoom which is well stocked and reasonable in price. As a word of warning, I visited the museum in July and you would have thought from the weather that it was Winter (highest village in Scotland remember), so go prepared for inclement weather and take some money for the tearoom!

Normally the next place to visit from here would be the Lochnell mine but you are free to visit the attractions in any order that you wish. The mine is a hard hat area and is very much a guided tour for safety reasons. The very knowledgeable tour guides take you into what is a remarkably well preserved mine, where you can see and hear how the miners toiled underground.

The next place that I visited was the miners cottages, which are set up as they would have been in the 1740's and 1890's. Again, the scene is set by the very knowledgeable guide who highlights the contrast between the two eras.

From here you can visit the miners' library, which is the second oldest subscription library in Scotland. Established around 1756, the library contains over 3000 rare books many of which were donated by "the great and the good".

You are free to wander around the village and you may also take the opportunity of panning for some gold. Yes, hard to believe, but Scottish Gold is amongst the purest in the world. The gold from the Mennock area is approximately 22.8 carats and you can take the opportunity to pan, hoping to strike it rich, at the gold panning centre.

If you want to find out more then the museum can be contacted at:
Museum of Lead Mining
Wanlockhead
By Biggar
ML12 6UT
Opening Hours (2001) Daily 10AM till 4PM
Telephone: 01659 74387