Scotland's History
Accommodation
Archaeology
Articles and reviews
Arts
Art for sale
Scottish Books
Calendars
Castles and Historic Houses
Famous Scots
Family/Genealogy
Gaelic/Language
Golf
Home Page
Humour
Museums & Attractions
News and Breaking Stories
Picture Gallery
Places to visit
Poster Store
Privacy Statement
Quizzes and puzzles (Fun Only)
Recipes
Small Ads
Site Map
Whisky
Links


"Home made bike" Graeme Obree Picture Photograph
National Museum of Scotland
The National Museums of Scotland advertise themselves with the slogan ".. show Scotland to the World and the World to Scotland" achieving this through extensive collections built up over more than two centuries".

Based mainly in Edinburgh the main collection is well worth seeing and the pictures on the following pages will give a flavour of what is on display.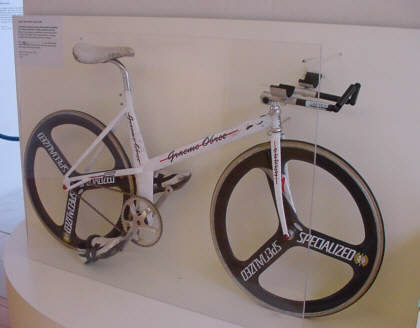 This is the "home made bike" that Graeme Obree won a variety of records and championships on.
Official Site
Review of Attraction
Next Page