Nairn is one of those places that any golf aficionado, certainly of Scottish golf, will have heard of. The club has played host to many major events, the Walker cup being just one. Recently I was lucky enough to play round the course in one of the open competitions, which gave me the opportunity of not only playing the course but also seeing it at its best (well calmest anyway).
The competition is called the King Trophy and is played round the championship course, being played from the Championship tees on one of only two occasions for amateur players during the year. This of course made it extremely difficult and no amount of money will allow me to reveal my final score on such a public forum! That said however, the course itself was in magnificent condition and in a strange way the difficulty added to the experience.
It would be easy to bore you by going through the course hole by hole. However, the course outline is well documented on the official website here with accompanying photographs.
As I indicated earlier most of the holes are memorable but if I had to choose one "signature hole" then it woud be likely to be the Fourteenth (`Kopjes` a massive 219 yards, par-3) – Out of bounds on the left and from the championship tee, 191 yards to the front of the undulating two-tiered green, which is guarded by bunkers right and left. A good hole offering magnificient views of the Moray coastline.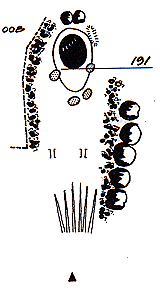 The major question I suppose would be "is the course worth the money". The answer is undoubtedly yes. Whilst the green fees are a bit hefty by Scottish Golf standards (£70-2002) they are by no means expensive when compared to the better known courses such as Turnberry and Royal Troon. Whilst I haven't yet played Royal Troon, I have played Turnberry and in my opinion whilst Turnberry was special, Nairn was even more so and came a close second to Dornoch, which remains my all time favourite.
Try it, I really don't think you will be disappointed