Moffat is a small market town, about one mile from the main arterial motorway north, namely the M74 motorway and approximately one hour from Glasgow. As a regular winner of Scotland in bloom, it is a popular stopping off point for coach parties and visitors who are passing through the area. I have visited this little market town many times during both Summer and Winter and Winter and the contrast could not be more stark. During the summer it is a vibrant little town with one of its main attractions, namely the woollen mill shop, full of coaches and cars.
The main park is a pleasant hub of activity with some very pleasant surroundings (hence the Scotland in bloom award) with a collection of busy little shops on the main street. If you wander up the main street you will find a chemist shop which claims to be one of the oldest in Scotland and the Star Hotel which claims to be the narrowest hotel in Scotland (it is narrow!!)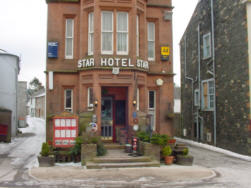 At various times you will also see wall plaques with claims of various notable Scots having visited the area such as Burns, Wallace and Bruce. The remainder of the shops on the main street are primarily a collection of wool clothing shops, tearooms, hotels and confectioners.
During the summer at least, it is a pleasant way to spend an hour or so and the surrounding countryside contains a wealth of good walks for people of all ages and abilities.
The countryside also contains a wealth of sources for archaeologists and geologists, with its rounded landscapes formed by the Ice Age. This landscape with its hard stone and clay soil has been fought over by the Picts and Romans with some skirmishes by Covenanting troops. As such it contains some of the earliest historical relics and is close by the route of the Roman Road from Carlisle to Castledykes. Moffat as stated earlier is about one hour from Glasgow but it is also an hour away from the longest Roman feature in Britain, Hadrian's Wall.

During the winter however, the picture could not be more different. The town is much quieter and it is certainly easier to park your car at the woollen mill which despite being open and it's exhibits functional,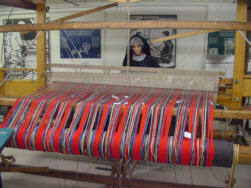 is still much quieter
Some of the shops are closed and the town takes on a completely different look. It is still worth a visit but your time spent there will probably be much shorter. Another point to consider is that the Tourist Board, which moved to new premises about two years ago, might not be open. Upon trying to enter the building today I was greeted by the sign "..this office is now closed..". I'm not sure if it is closed permanently or if it is just closed over the winter. Hopefully this is not a sign of the times with Scotland shutting for the winter.