Scotland's History
Accommodation
Archaeology
Articles and reviews
Arts
Art for sale
Scottish Books
Calendars
Castles and Historic Houses
Famous Scots
Family/Genealogy
Gaelic/Language
Golf
Home Page
Humour
Museums & Attractions
News and Breaking Stories
Picture Gallery
Places to visit
Poster Store
Privacy Statement
Quizzes and puzzles (Fun Only)
Recipes
Small Ads
Site Map
Whisky
Links

Lomond Shores
REVIEW of AREA 2002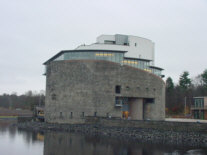 Lomond Shores opened on 25 July 2002 and was to be the gateway to Scotland's first National Park. As such it was expected to be one of the flagship attractions in Scotland. Situated just 18 miles North West of Glasgow it is certainly within easy travelling distance of one of Scotland's major towns but the question is "should you bother making the journey?"


It is easy to criticise the Scottish Tourist Industry. In fact many people almost seem to make a hobby out of it, but in this case it would seem appropriate. The advertising literature talks of a "mixture of leisure and retail experiences" and yet the retail experience amounts to two shops (including Jenners Department Store-Nov 2002), with no real signs of major expansion.


On the plus side however is the leisure side of the attraction. At the heart of this leisure is the impressive with the Drumkinnon Tower (pictured above) taking centre stage. Within this 6 storey highly glazed building, lies a variety of interests for young and old. Comprising some history, some myths and legends along with some natural history it is capable of entertaining as well as informing. Coupled with the viewing galleries, which look out across the loch towards Ben Lomond this is indeed the main attraction of the facility. Of course the stunning scenery should also help to build the enjoyment and that is perhaps the main strength of the attraction, namely its location. My advice: don't go solely for the shopping- you will be disappointed.









Maid of the Loch Pictures
Official Site of Lomond Shores