This year saw the first ever Glasgow show being held in Victoria Park on the south side of the city.
Surprisingly, Glasgow had never held an event which many could see as an alternative to the National Show held at Ingliston, Edinburgh at the end of June each year.
If I am honest I had some reservations about this inaugural event. It is late in the Scottish growing season, the event is to be held in a public park in a quite densely populated area with limited traffic flow and the weather for the last week has been nothing short of shocking.

However, I was in for a pleasant surprise on my visit to the Glasgow alternative to the National Show. The one and only problem was as I suspected parking. Luckily I had a press parking permit (one of the perks of the job!), but the public were finding it difficult either through lack of clear signage or insufficient parking to get to the show easily and quickly. To be fair though, it was not a major problem and it certainly wasn't the dreaded chaos that these events can sometimes generate.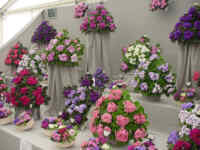 Upon entering the main show area, it was quickly apparent that the organisers had chosen the park carefully. It is a natural showground for a flower show, set as it is amongst plants and trees growing in their natural state. In addition the parks play areas were still open which could keep the children amused and there were additional, specially laid on, facilities.

The show was well laid out and the natural light afforded by the tented marquees, rather than the "big shed" used at the National Show, displayed the plants at their best. Many of the exhibitors were at the National Show but again the range was diverse and the plants on display and for sale were often of a slightly different type.


On this first showing the Glasgow event can quite clearly become a strong competitor against the National Show. Perhaps some reflection should take place though, on the date as it is a little late in the season. Otherwise, if you have any interest in gardening, it is an event well worth seeing.


Picture Gallery