This palace is a National Trust for Scotland property and is set in the heart of the medieval village of Falkland in the region of Scotland known as Fife. Part ruin, part lived in, the Palace is interesting in a variety of ways.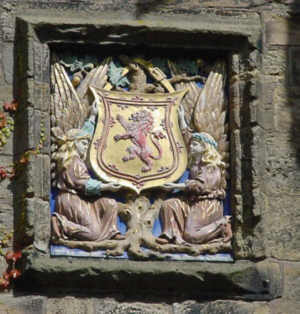 The palace was built between 1501 and 1541 by James the Fourth and Fifth of Scotland and replaced earlier castle and palace buildings. Traces of these earlier buildings, which date from the 12 Century can still be seen in the extensive and beautiful grounds.

The palace itself is really split into two parts, the royal residences and the keepers apartments. The keepers apartments plays host to an extensive collection of interesting exhibits and some surprising displays of true craftmanship. The guides on duty are very helpful and welcoming and you should take advantage of this to ask as many questions as possible. In addition, in the first room you enter you should almost certainly ask to see,

the intricate carving on the wooden four poster bed. Bear in mind, that there were no machines to make this and I doubt if you will see a better example of craftmanship on your visit.
Between the keepers apartments and the royal residences you will pass other rooms and hallways such as the royal chapel, which is surprisingly large and the tapestry hall. At the end of this corridor you can make your way up the stairs to the Edwardian library which is worth both visiting and mentioning, as I almost walked past the sign.

After crossing the small courtyard/ramparts you enter the royal residences. This Royal Palace was used as a country residence by the Stewart Kings and Queens of Scotland and famous visitors included Mary, Queen of Scots. As such, some of the rooms have been mocked up to show how they may have appeared in these early times. The only strange thing is that the keepers apartments are, in my opinion, much more impressive.

The all important question:" is it worth a visit". Quite simply my answer would be an emphatic yes

If you want to find out more then the Palace can be contacted at:
Falkland palace, Garden and Old Burgh
Falkland
Cupar
KY15 7BU
Opening Hours (2001) Mon. to Sat 11AM till 5.30PM, Sunday 1.30 till 5PM


Falkland Palace Picture/ Photograph Gallery