Scottish Castles and Houses
Guest Article - Andrew Loyd



For centuries Scotland has been building some of Europe's finest homes. Even as recently as 1905 we saw the building of Manderston in Berwickshire. It was constructed on a huge scale to celebrate the Edwardian age and new found prosperity.

What is more remarkable is how many of these wonderful properties have survived. Of course many have not and in the 1960's large homes were being pulled down at a rate of one a week. Many had been badly treated during war time occupation, others were too huge to maintain in the modern world and some simply had been left to rot.

However thanks to organisations like the National Trust, Scottish Heritage, Historic homes etc stepping in to help and also to hundreds of individual families, there remain today over 800 houses & castles of huge importance to the nation.

Some are small Georgian gems that just required a little restoration but many are enormous properties that have taken a life times dedication and sacrifice to restore, refurbish and to make viable in the modern world. Very few of these selfless owners ever receive any public recognition but they can at least draw satisfaction that their family home has been saved for future generations.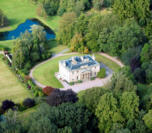 What good fortune to live in a country with such treasures in our midst, especially as most are so accessible, through public or private tours, garden schemes or commercial use. They generally come with extensive gardens and are surrounded by land lovingly looked after for centuries. This vital part of our historical fabric has always been and remains under threat but determined folk have battled through and the public fascination in gaining a glimpse into a bygone era seems to remain as strong as ever. Most owners recognise that they are only temporary custodians of what is essentially the back-bone to rural Scotland.
A visit to Scotland would be incomplete without taking in these national treasures. By visiting or even staying in one of these magnificent homes, you will be empowering these welcoming owners to maintain our heritage. In return you will leave with a sense of the nation's history, hospitality, beauty and atmosphere.
This is a guest article by Andrew Loyd.
Andrew Loyd is a director of Loyd & Townsend-Rose Ltd, a luxury tour operator specialising in house and castle vacation rentals throughout Scotland.