Robert Burns-Life and Times
Guest Article
This weeks article is a guest submission by a good friend and colleague of mine, Michael Murray. Michael is a member of the
Irvine Burns club
and is a past president of that club. He also took this picture of the statue of Burns situated on Irvine Moor.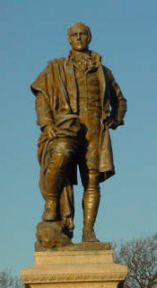 Robert Burns 25 Jan 1759 - 21 Jul 1796
Robert Burns was born in Alloway in Ayrshire and died at the early age of 37 years in the town of
Dumfries
. His parents were William Burnes, a tenant farmer, originally from
Clochnahill
in Kincardineshire, and Agnes Brown, who was a native of Craigenton, Maybole, a few miles south of Ayr. Robert was the first of seven children and he and his brother Gilbert were educated by their father and John Murdoch. Murdoch was hired by a group of farmers, including William Burnes to teach their children.
This "formal" education started when Robert was about six years old and continued for a few years before Murdoch left the district in 1768. He returned for a short time in 1772 and further study was pursued under his direction.

Robert and Gilbert also studied at a summer school in Dalrymple in 1772. Thanks to his father's great love of learning and the very strong grasp of basics, gained from Murdoch, Robert became a voracious reader of a wide range of literature. However as he moved into his teens Robert became the chief labourer on his father's farm and this ensured that his health was to suffer in later life and he died of endocarditis brought about by rheumatism.

Robert tinkered with poetry from an early age and his first recorded poem is "Handsome Nell", which he wrote when he was only fifteen years old, for Nelly Kilpatrick. The family moved from Alloway to Mount Oliphant farm in 1766 and then to Lochlie farm, near Tarbolton in 1777. During the time at Tarbolton Robert moved to Irvine to learn the trade of flax dressing, hoping to make the farm more profitable. During his stay in Irvine (1781/82) he came upon the works of the Scottish poet Robert Fergusson and it is believed that this and encouragement given by friends in the town prompted Burns to consider poetry as a career.

The family moved to Mossgiel Farm near Mauchline in 1784 and it was during the stay in Mauchline that much of his best poetry was written. In 1786 he published his "Kilmarnock Edition", which was titled "Poems Chiefly in the Scottish Dialect". 612 copies were printed and these were sold out within a month of publication.The original manuscripts of the first six poems in this edition are held in the Museum of the Irvine Burns Club, in Irvine, Ayrshire.
The success of the Kilmarnock edition helped Burns to abandon plans to emigrate to the West Indies.

Part Two