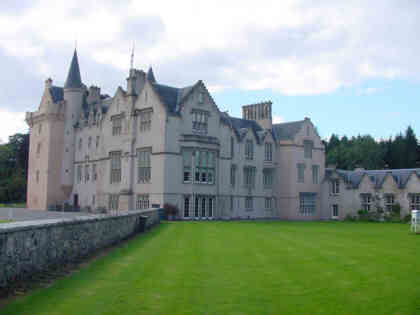 Brodie Castle
is situated in extensive parkland in an area near
Forres in the North of Scotland
. The castle has a long and dramatic history (as most of Scotland's castles have)and is presently owned and managed by the National Trust for Scotland.
Previously owned by the Brodies of Brodie, the Clan family has long been associated with the area and their influence on the castle is easy to see. An example of this is one of the rooms on the upper floor, which is completely dedicated to a collection of watercolours, which have been collected over the years by the family.
The whole castle indeed, has a "lived in" feeling to it and it certainly isn't a musty, dusty collection of old artefacts. The castle is set in attractive parkland which is suitable for all ages and the castle itself consists of a 16th century Z plan tower with later additions dating from the 17th and 19th century.
In addition to the watercolour rooms the house also plays host to collections of French furniture, Continental and Chinese porcelain and a major collection of artwork. The library, which will probably be the second room you enter, contains over 6000 books covering a wide range of topics and dates.
One hint I would certainly give you is to look up at the ceilings and the upper parts of the walls in each of the rooms that you enter. Some of the ornamental plasterwork is quite spectacular and the wood panelling equally so.
It would be fair to say that this attraction isn't exactly on the "beaten path" and you will probably have to make at least a small detour to get to it.However, I would certainly recommend this attraction to you and in some ways it is a pity that there isn't anything else particularly close by. I am told that Fort George is worth seeing but that review will have to wait till a later date.

If you want to find out more then the attraction can be contacted at:
Brodie Castle
Brodie
Moray
Highland
IV36 2TE
Telephone: 01309 641600 for opening hours