The first snows of winter on Arran Photograph
This is a picture of The Island of Arran with the first snow of winter across Goatfell.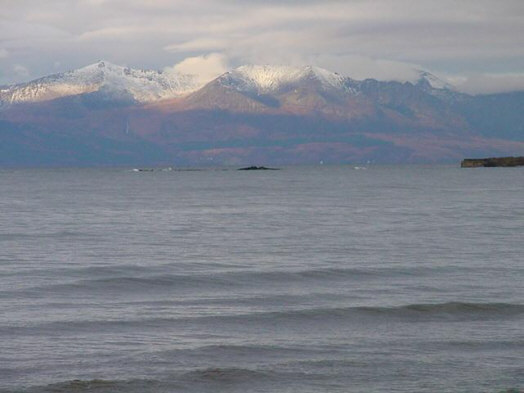 This photograph of the Island of Arran shows an Island which is situated on the south west coast of Scotland and is often referred to as 'Scotland in Miniature'. Isle of Arran, within a relatively small area, captures many aspects of the beauty of Scotland as a whole, from towering peaks which invite hill walkers and climbers to the other extreme of peaceful sandy bays overlooked by palm trees growing in the warm climate of The Gulf Stream.
The wildlife is as you would expect as varied, with deer, pheasant, otter and eagle readily seen in the mountains or in the many inland streams with the additional prospect of spotting a colony of seals near the coastal caves. Across the island, trails and pathways lead to mysterious Bronze Age Stone Circles and historic sites.
Dominated by Goatfell, the Island is well worth visiting.