Traditional Scotland Teatime Treats Ideas
Brandy and Orange Pancakes Recipe
This is a recipe for brandy and orange pancakes.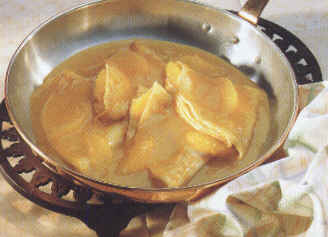 Ingredients for Pancakes:
125 g (4 oz) plain flour, sieved with
1/2 x 2.5 ml spoon (1/4 tsp) salt
2 eggs, size 3
275ml (1/2 pint) milk
Oil for frying
Ingredients for Sauce:
75 g (3 oz) margarine
125 g (4 oz) caster sugar
2-3 x 5 ml spoons (2-3 tsps) arrowroot
150 ml (1/4 pint) orange juice
1 orange, grated rind, peeled and segmented
2 lemons, grated rind and juice
3 x 15ml spoons (3 tbsps) brandy
Method:
Pancakes: place flour in mixing bowl, add eggs and gradually stir in half the milk, beat thoroughly Add remaining milk. Heat oil in frying pan. Pour a little batter into pan and tip the pan to spread. Cook underside until golden brown, turn over and cook other side. Repeat until all batter is used. Fold pancakes and overlap in a lightly greased shallow dish. Keep warm.
Sauce: melt Stork and stir in sugar cook for 5 minutes. Blend arrowroot with a little orange juice then add remaining ingredients to the saucepan. Simmer for 3 minutes, stirring constantly. Add pancakes and heat through.
Serve warm with cream or ice-cream.

Servings 4
Preparation Time 30 mins
Cooking Time 25 mins
As with all recipes which involve cooking and baking a sensible approach must be taken especially when dealing with warm or hot (temperature) ingredients. If you are unable to take due care, please do not attempt to make any of these recipes. All recipes are tried at your own risk.
For US to UK equivalents for food weights and measurements see this rough guide

Whilst these recipes may be freely used they may NOT be reproduced in any format (for example -electronic or paper based) without the website owners PRIOR agreement.